Dino Zamparelli (Redline Racing) emerged from an action packed season opening weekend of the Porsche Carrera Cup GB, the fastest single marque GT racing championship in the UK, leading the championship standings. Zamparelli earned himself two championship points for pole position which he converted into a dominant race 1 victory.
For the first time reverse grids featured in race 2 which resulted in a pole position start for Pro-Am runner Jamie Orton (JTR) who finished race 1 in fifth. Weather also played its part in what was to be an eventful race, which featured two Safety Car periods and ended with a maiden win for Rookie George Gamble (Amigos Team Parker).
Victory in both races saw Orton establish himself as the driver to beat in the Pro-Am category, while Rookie Peter Mangion (Team Parker Racing) and Peter Kyle-Henney (IN2 Racing) were closely matched all weekend in the Am category, they emerge separated by just 1 championship point.
Race one
Less than half a tenth of second covered the top six cars in Qualifying, setting the scene for a closely contested opening round of the 2018 Porsche Carrera Cup GB. Wet weather added to the expectant atmosphere prior to the start, causing all 21 cars to choose grooved wet tyres ahead of a standing start.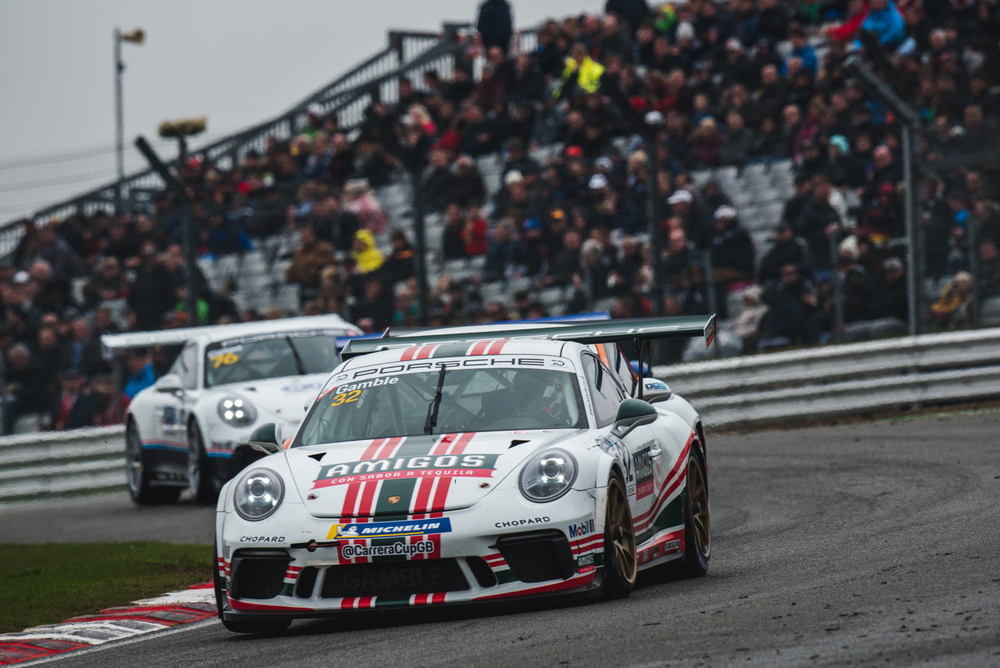 When the lights went green Dino Zamparelli (Redline Racing) made a purposeful start, gaining several car lengths away from the line. Behind, Lewis Plato (JTR) maintained second position while Tio Ellinas (Slidesports) moved into third, ahead of Dan Harper (JTR). Zamparelli pushed hard up front building an early gap to Plato, as Ellinas began to close the distance to Plato. In the Pro-Am category Jamie Orton (JTR) led Rory Collingbourne (Welch), while Peter Kyle-Henney (IN2 Racing) topped the Am runners. On lap 4 Fraser Robertson (Redline Racing) briefly visited the gravel at Paddock Hill, before recovering to continue his race.
On lap 5, Ellinas gained a run on Plato through Paddock Hill bend, forcing Plato to defend in order to retain his 2nd position. As the pair fought over second, 17-year-old Porsche GB 2018 / 2019 Junior, Harper, seized the opportunity and made a move on Ellinas for 3rd. As the Cypriot driver struggled for grip through Graham Hill he also lost a place to George Gamble (Amigos Team Parker). Close behind in Pro-Am, Orton and Rookie Seb Perez (Amigos Team Parker) were fighting for the category lead, until Perez's race ended prematurely in the gravel trap at the exit of Clearways following contact.
On lap 9 Ellinas began a fight back that was to take him to the front, first passing Gamble through Paddock Hill for 3rd position, then Plato for 2nd. Once clear of the scrapping pack Ellinas set after Zamparelli, who by then had built an impressive lead of over ten seconds. The two drivers began trading lap times, ultimately Ellinas catching Zamparelli by one-second per lap as the leader caught traffic.
Zamparelli responded to maintain a lead of just under four seconds over Ellinas as the pair crossed the line, with Plato rounding out the podium in third. Top Rookie Gamble held onto 4th despite a slow puncture following contact earlier in the race with Harper as the pair went through Paddock Hill. Harper suffered a more severe puncture leaving him to limp across the line in 13th.
Of the Pro-Am runners Orton recovered well from an earlier excursion at Graham Hill bend to take category victory, ahead of Greg Caton (G-Cat Racing) who came through from fifth on the grid. Collingbourne clinched third from Dan Vaughan (Motorbase), both Rookie drivers joining the close battle for second.
In the Am category an enthralling four-way race developed between leader Peter Kyle-Henney, second placed Shamus Jennings (G-Cat Racing), team mate Gary Eastwood (G-Cat Racing) and Rookie Peter Mangion (Team Parker Racing). Mangion had made good progress after the start, in the space of two corners passing Jennings then Eastwood to finish second in category with Eastwood taking the final podium position.
As part of the 2018 podium procedure, winner Zamparelli selected at random the number 5 ball, which reverses the grid positions of the top five overall race finishers from round one. This formed the starting grid for round two; Orton, Gamble, Plato, Ellinas and Zamparelli.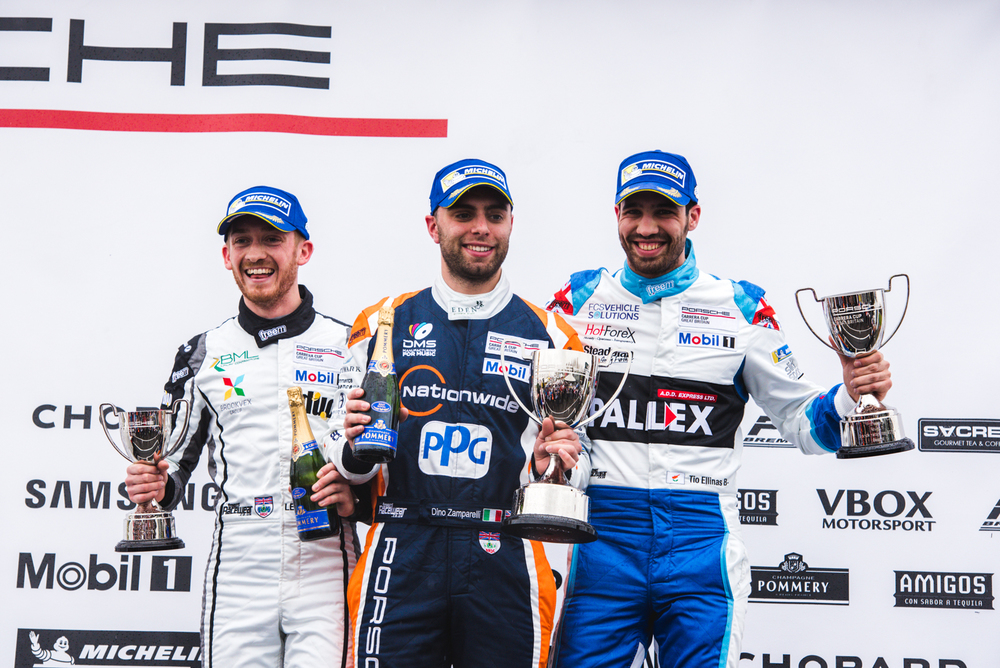 Race two
Pro-Am race one winner Jamie Orton (JTR) started on pole position from George Gamble (Amigos Team Parker) and Lewis Plato (JTR) for Porsche Carrera Cup GB's first ever reverse grid race. It was Plato this time who made the best of the standing start in dry conditions, gaining two places to lead into Paddock Hill from Orton and Tio Ellinas (JTR) after the Cypriot displaced front row starter Gamble. Having started in 13th on the grid, Dan Harper (JTR) made impressive headway early on in the race, moving up to 8th place. Of the Am category runners, Peter Kyle-Henney (IN2 Racing) lined up on pole position but stalled off the line, while behind him Shamus Jennings (G-Cat Racing) made a false start for which he received a 10 second penalty added to his overall race time.
On the run through Druids on lap 12, Ellinas made a challenge on Orton but as Ellinas went to the outside of Graham Hill Gamble got a run on both into Surtees, moving from 4th to 2nd in one sweeping move. The Safety Car came out on lap 17 to clear the stricken car of Greg Caton (G-Cat Racing) from the gravel at Druids following contact with a charging Harper. For his part in the incident Harper was penalised two championship points.
As the pack slowed, Fraser Robertson (Redline Racing) made contact with Kyle-Henney on the outside of Clearways, the number 20 car launching into a series of rolls that ended against the tyre wall. Robertson emerged unscathed, while Kyle-Henney was able to continue.
As the Safety Car picked up the leading runners headed by Plato, rain began to fall, although the effect on grip at racing speeds remained unclear. On lap 23 the Safety Car pealed off the track and as Plato made a break up front he ran wide into Clearways, rejoining in front of Dino Zamparelli (Redline Racing) allowing Gamble through. A recovering Plato was subsequently passed by Zamparelli before the Safety Car was called into service once more to recover the car of Iain Dockerill (Asset Advantage Racing) at Clearways after his spinning car was collected by Justin Sherwood (Team Parker Racing). As the rain continued to fall, the race was red flagged as the 30-minute time limit approached.
In Pro-Am, pole-sitter Orton crossed the line ahead of Rory Collingbourne (Welch), while fellow Rookie Esmee Hawkey (GT Marques) navigated her way through the action –- including narrowly avoiding Sherwood's car at Clearways – to claim the final category podium position after starting fifth.
Rookie Peter Mangion (Team Parker Racing) took a maiden Am category victory in only his second race, with fellow newcomers Gary Eastwood (G-Cat Racing) and Richard Hawken (Slidesports) joining him on the podium. Race one winner Kyle-Henney placed fourth with reigning category champion Jennings in fifth. Mangion's performance earned him the Driver of the Weekend accolade, while Amigos Team Parker Racing were awarded Team of the Weekend.
Championship positions
Overall:
Dino Zamparelli Redline Racing 20
Tio Ellinas Slidesports 18
George Gamble Amigos Team Parker 16
Pro-Am:
Jamie Orton JTR 22
Rory Collingbourne Welch Motorsport 14
Esmee Hawkey GT Marques 9
Am:
Peter Mangion Team Parker Racing 18
Peter Kyle-Henney IN2 Racing 17
Gary Eastwood G-Cat Racing 14