Manthey-Racing won this year's 24-hour race at the Nürburgring. Richard Lietz (Austria), Patrick Pilet, Frédéric Makowiecki (both France) and Nick Tandy (Great Britain) were the victorious drivers in the #912 Porsche 911 GT3 R. After 135 laps of racing, Makowiecki was first across the finish line to present the team from Meuspath, near the Nürburgring, with its sixth overall victory at the biggest automobile race in Germany. Manthey had previously enjoyed success there between 2006 and 2009, and in 2011.
Having started in dry and sometimes sunny conditions, the 46th Nürburgring 24 Hours ended in heavy rain and fog. The conditions deteriorated so badly that, with 3.5 hours remaining, the race had to be suspended for one hour and 45 minutes. Shortly before this interruption, the number 912 car had dropped back into second place following a 3:32-minute stop-and-go penalty for a Code 60 infringement. However, the ensuing lead of over two minutes was negated by the restart, meaning the two leading cars resumed right behind each other with just 1.5 hours remaining.
The #4 Mercedes and Makowiecki in the Manthey-Porsche were then locked in battle for a number of laps. 70 minutes before the end of the race, the French Porsche works driver pulled off what proved to be the decisive overtaking manoeuvre: Makowiecki took the lead in the Mercedes-Arena area of the Grand Prix Circuit. Like the team during the final pit stop, the 37-year-old was flawless throughout his double stint, guiding the number 912 home with a lead of 26.413 seconds over the second-placed car.
In contrast, the number 911 car, which started the race from pole position, crashed out of the race just ten hours in: Romain Dumas (France) skidded into the crash barriers when he hit a dirty section of track in the Schwalbenschwanz area of the circuit whilst lapping a slower car. Dumas was unhurt in the crash. Prior to this incident, the former Le Mans winner and his fellow works drivers Kévin Estre (also France), Laurens Vanthoor (Belgium) and Earl Bamber (New Zealand) had led the race for long stretches.
Vanthoor set a new lap record on the 25.378-kilometre layout of the Nürburgring this weekend: A lap time of 8:09.105 minutes in the legendary "Grello" in Saturday evening's Top 30 Qualifying was enough to beat the previous best, set by team-mate Kévin Estre in 2014.
An eventful race saw the number 12 Manthey-Racing car produce something of a fightback. Porsche test driver Lars Kern, Otto Klohs (both Germany), Norwegian Porsche Young Professional Dennis Olsen and Switzerland's Philipp Frommenwiler lost a lot of time during repair work following a crash. However, they recovered well to finish 18th overall – two places higher than their starting position.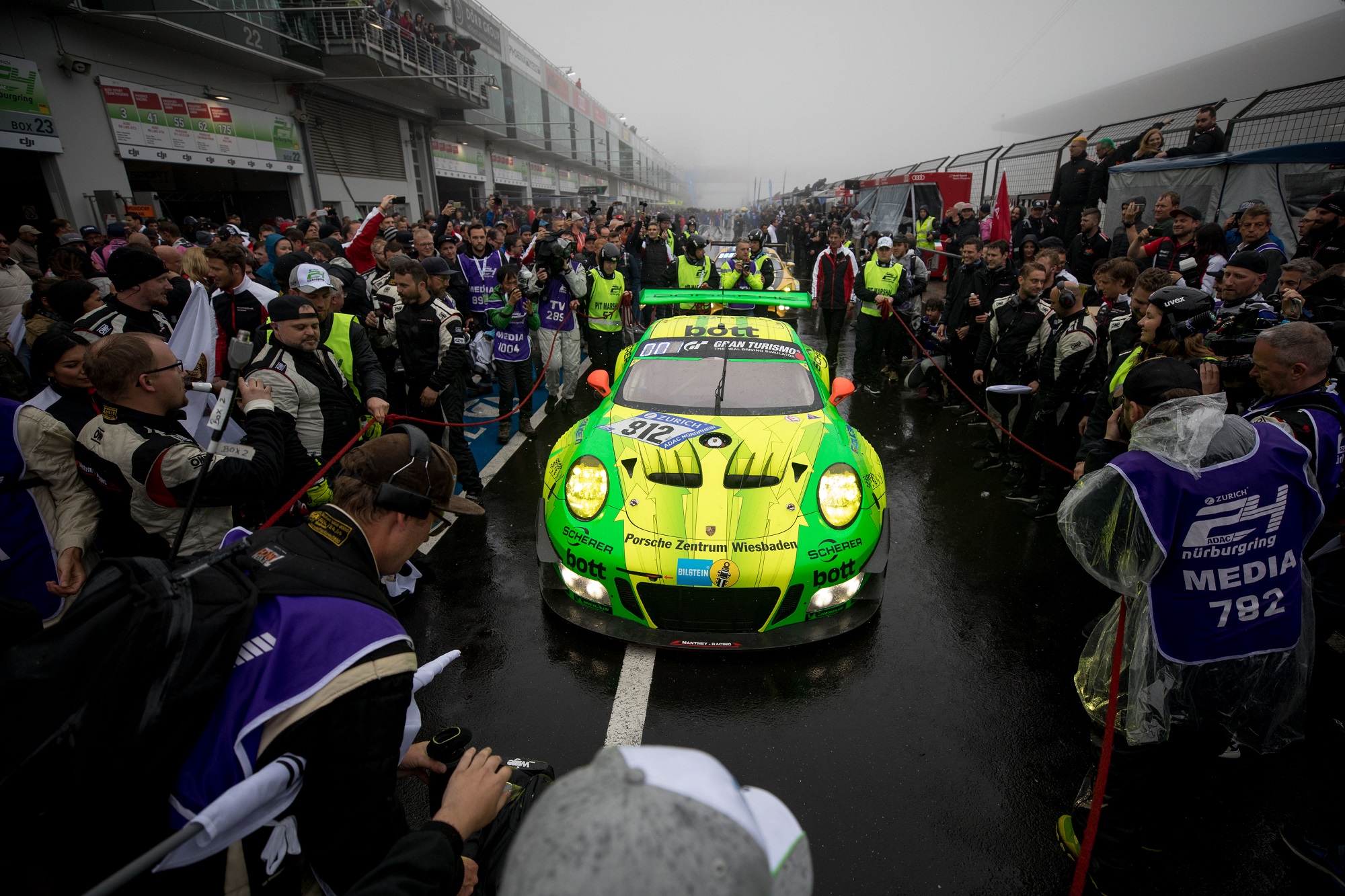 About the race:
Nicolas Raeder (CEO of Manthey-Racing): "I would like to say a big thank you to the entire troop. With that I mean all the Manthey employees and everyone involved at Porsche who made this project possible. I am incredibly happy and super proud. And Olaf Manthey is proud of us, which means a lot. We are delighted to continue the history of Manthey-Racing in such an honourable manner."
Frédéric Makowiecki (Porsche 911 GT3 R #912): "That was a tough, but at all times fair, battle for the lead. I am really pleased with this win. The puncture meant we made a poor start to the race, but we improved lap by lap. The car was set up perfectly in both dry and wet conditions, so we were able to push right through to the finish."
Kévin Estre (Porsche 911 GT3 R #911): "We had a strong race. We were always leading and did not make any mistakes. In the end, Romain drove over some oil and dirt on the track whilst lapping another car. That caused him to lose control of the car. It is very tough to take, but that is motor racing."
Otto Klohs (Porsche 911 GT3 R #12): "We had a decent race in the end. It obviously hurts to have lost five laps due to a crash. Were it not for those five laps, we would have been up where we wanted to be – namely in the top ten."